Get to Know Joe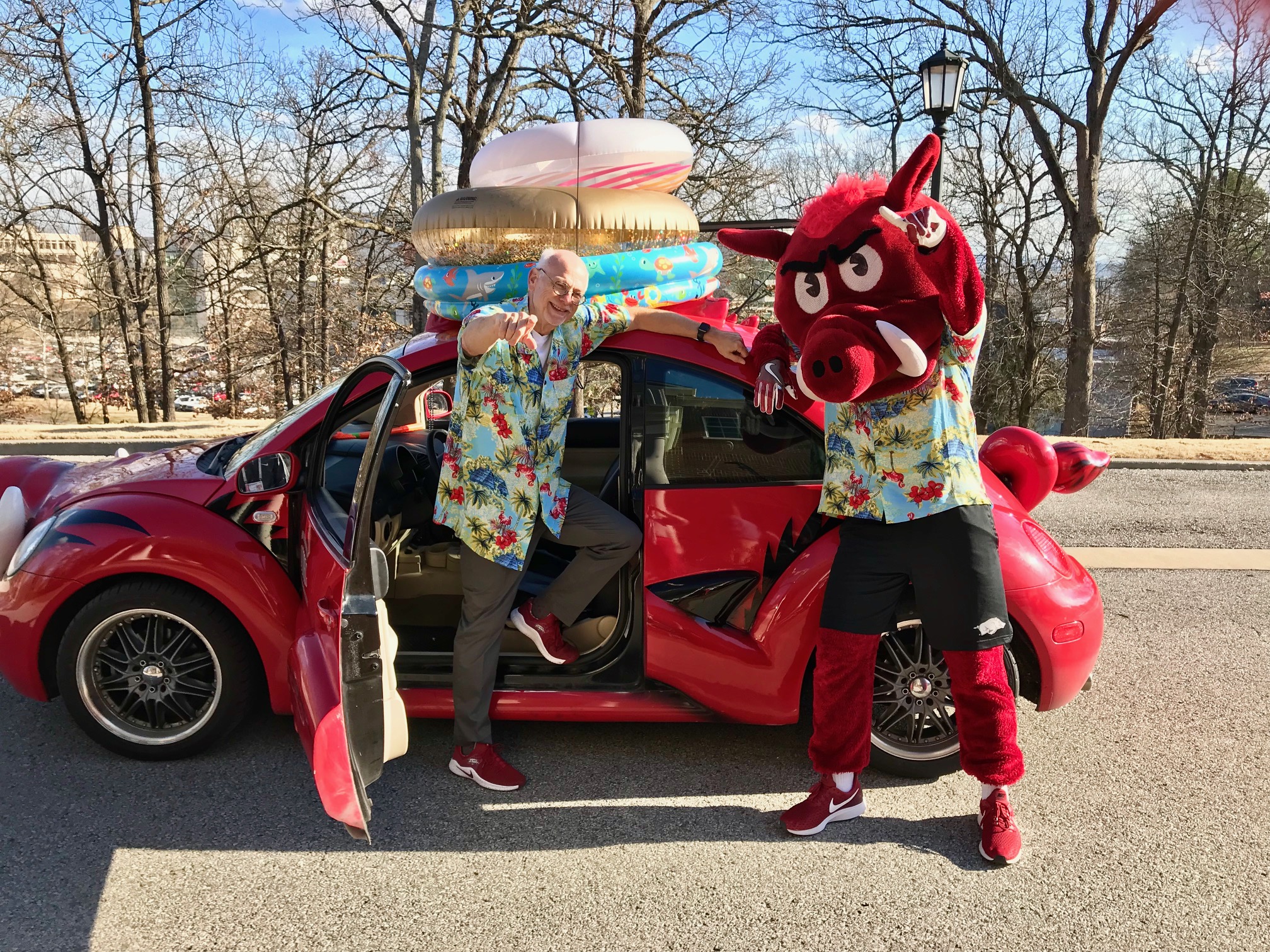 Perhaps what's most striking about Joe Steinmetz, the University of Arkansas's chancellor, is just how much he doesn't act the part.
You would expect someone with such an impressive title before his name to be stiff, formal, serious, and all business. But that's not Joe. He's affable, unassuming, and quick to laugh at his lack of experience in all things Southern. He's just as happy to discuss his erstwhile career as a rock musician as he is retention rates, tuition hikes, research, or any of the other thousand issues the head of the state's flagship institution of higher education addresses on a daily basis.
He is a seasoned administrator with ideas on where the University of Arkansas is headed and the drive to get there. And he's already instilled a bit of his own personality on the Fayetteville campus.
"To the delight of the senior vice chancellors I announced informal summers," he said, speaking from his office on the fourth floor of the Administration Building on the Fayetteville campus. "For the women that work on the staff I said, "I don't know what that means for you.' Open-toed shoes I think. I have no fashion sense whatsoever. I am a very informal person, and that suits me just fine."
Scientist At Heart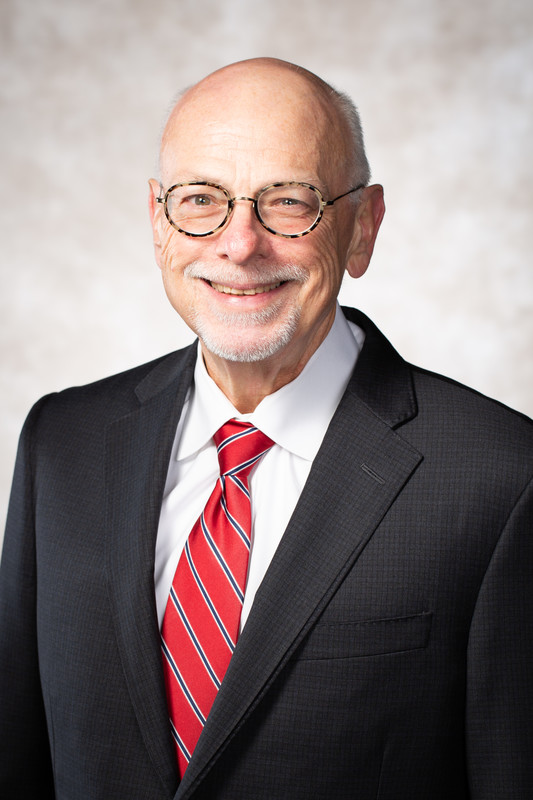 If Steinmetz has a scientist's disregard for decorum, that's probably because he spent a large part of his career as one.
He grew up in Marine City, Michigan, just north of Detroit, playing the piano and organ, and thinking a career as a performer was his calling. As a young man of not-quite 18, Steinmetz took a musical aptitude test and realized he might be better off doing something else. He was good at science and math, so that's what he pursued.
Though he played in rock bands to help pay his way through school, Steinmetz was studying to becoming a pharmacist. He didn't choose pharmacy for any particular love or aptitude for the field; for a kid from small town Michigan, that's what you did with a science degree.
"The only thing I knew about science, except my high school biology and chemistry and physics, was what you could see in the business community of science," he said. "In the town I lived in, that was a pharmacist."
That limited view of the world, the sense of not knowing what you don't know, drives him to this day. As chancellor, he loves to spread the word to potential students about the resources and opportunities available at the University of Arkansas. "That's the advantage of a large state institution, a land grant institution, is there is almost an unlimited number of areas you can go into, there is an exploration possible."
Two years into pharmacy school, he realized that wasn't his future, either. But he'd covered the basics and discovered that a science degree can take you many places. He earned bachelor's and master's degrees in psychology and experimental psychology, respectively, from Central Michigan University, and a Ph.D. in physiological psychology from Ohio University.
After a stint as a researcher at Stanford, Steinmetz spent 19 years at Indiana University in Bloomington, rising through the ranks from a professor to become the chair of the psychology department and ultimately the executive associate dean of the university's College of Arts and Sciences. His wife, Sandy, worked as a teacher in Bloomington, and his two sons, Jake and Adam, were both raised there and consider the city home.
He moved on to the University of Kansas, where he served as a professor of molecular bioscience and as dean of the College of Liberal Arts and Sciences. He continued teaching when he went to Ohio State, where he became the executive vice president and provost, overseeing all academic functions of a university with close to 65,000 students. He began his tenure as the University of Arkansas' sixth chancellor Jan. 1.
It's an impressive career path for a kid who once thought he was settling for his second choice, especially considering that he's is a first- generation college student.
"My parents did not go to college," he said. "My brothers and I did. That is why I have a passion for first-generation students. I think the amount of information you have available from a family that has never experienced college is limited."
The Learning Curve
Steinmetz readily concedes his newcomer status, both at the university and in the South. It's part of his charm.
"I tell people all the time that, to be honest, I had never set foot in Arkansas before October of last year," he said. "Everything is new to me. Literally everything about this state."
For someone trained as a scientist, that's not a bad thing. In fact, it's exciting, a new opportunity to learn and discover. He spent his first six months on the job doing just that.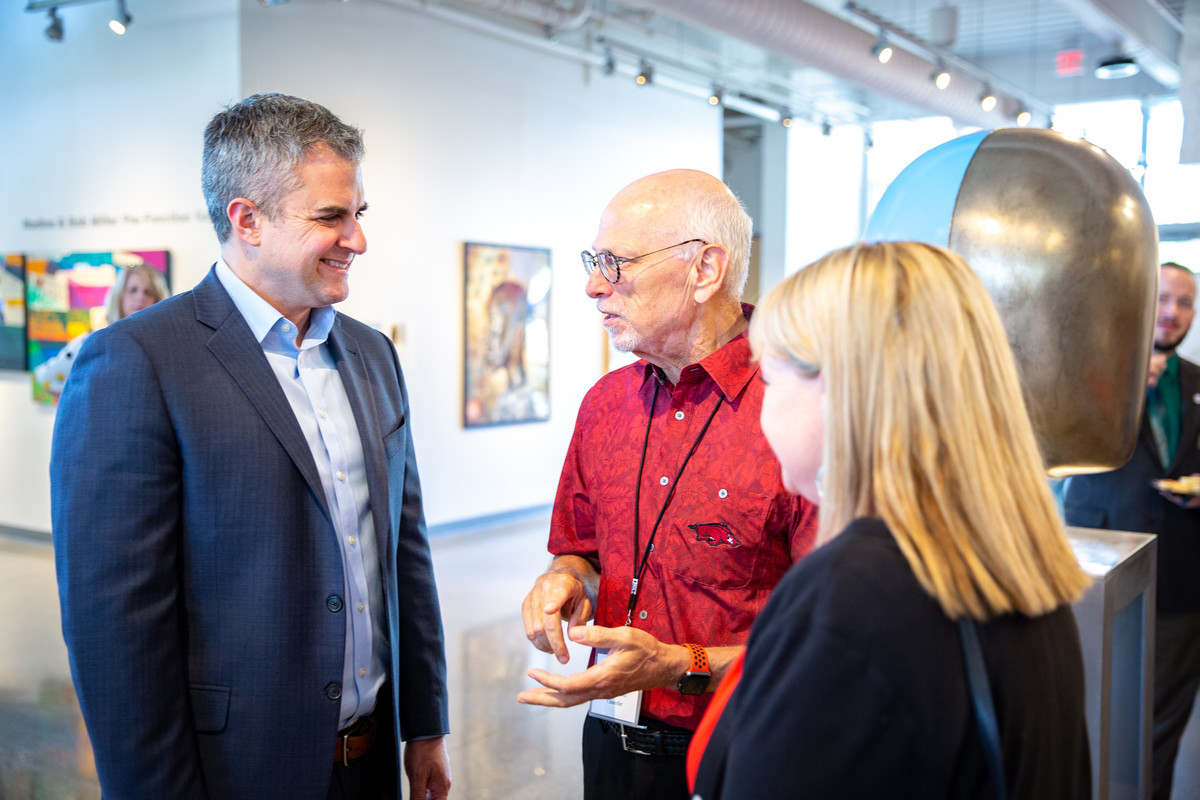 First was learning all he could about Northwest Arkansas and the University of Arkansas. Meetings with local business leaders led Steinmetz to a new understanding of the area's dynamic economy.
"I spent some time with the business community in the area, and the vitality of this area is unbelievable and a huge surprise to me," he said. "Huge. I had no idea."
Business leaders welcomed him, and weren't shy about sharing their thoughts. "They had no hesitation at all to tell me what the university should be doing better," he said with a laugh. "And a lot of that revolves around the idea that the workforce that is needed here in this area needs to be well educated. There are shortages of those people in this area, believe it or not."
His crash course on the university itself involved 75 meetings with departments all across campus. His top takeaway from that marathon was how hard faculty and staff work and how dedicated they are to the university's mission. "I think about our classified staff employees who haven't been given raises because the state won't let us," he said. "I sometimes wonder why they stay in their jobs. But their expressions about how much they care about students and the faculty and the university make this a very different place to work. The reward isn't financial, which they would love to have. It is really one of the community spirit there is here."
Finally, Steinmetz rounded up some of his top administrators, hopped on a bus and made a thousand-mile circle of the state to hear what Arkansans had to say. What he found was that people are deeply proud of the university and understand the impact it has on the state's economy. He also learned that people love the Razorbacks; no surprise there.
"That came from just walking down the street in Hope and looking at the number of people wearing Razorback gear," he said. "They can't all be alumni."
The tour also exposed Steinmetz to the fact that there's work to be done getting the word out to prospective students. "One of the conversations that struck me in some areas of the Delta is how many of the very well-qualified students there do not put the University of Arkansas on their list of colleges to go to," he said. "It seems too far away and not obtainable financially. That was striking and disappointing to me. It shows we have a lot of work to do in the way we recruit students and make them feel at home, all across the state."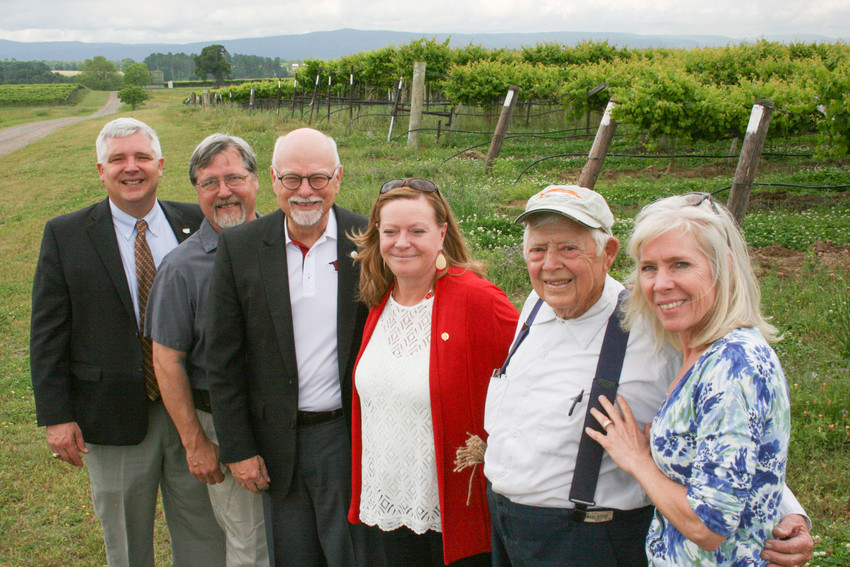 Any course of discovery is bound to uncover a few intangibles, findings that weren't specifically sought but prove highly useful. Steinmetz was delighted to discover that Southern hospitality is real, and not just because he's the boss.
"I'll go into store and they won't have a clue who I am," he said. "They are still helpful, much more than any other place I have been."
While the University of Arkansas may be the biggest school in the state, it's still a lot smaller than Ohio State. That means people are more connected here, he said, which has upsides and downsides. "One of the very best pieces of advice that I have gotten is be careful of what you say to anybody because they may be related to the person you are talking about. The old Kevin Bacon six degrees of separation, well there are about two or three degrees here in Arkansas.
And perhaps most importantly, he's got a good start on decoding the lingo, a vital skill for transplants from the North. "Nobody has said, 'bless your heart.' I was warned about that," he said with a chuckle. "They said if someone says 'bless your heart," it means they aren't impressed. Nobody has said it to me yet."