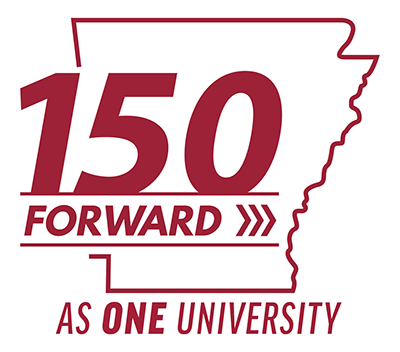 Strategic Planning Process
The University of Arkansas' 150 Forward strategic planning process is a campuswide, collaborative effort to map out where we are as a land-grant institution, and how to tease out more and better outcomes in achieving the university's mission.
The process began even before Dr. Charles Robinson was selected as the university's seventh chancellor on November 16, 2022, when he began rallying the campus around three strategic priority areas – or pillars: student success, research excellence and employer of choice initiatives.
A planning group began designing a series of events to bring the entire campus community into the planning process, and partnered with EAB, a higher education research firm, to provide best practices, tools and support to campus units.
The events — including town hall discussions, unit and organization level listening sessions and discussions, workshops and goal-setting sessions — kicked off in February 2023 and have continued throughout the year, supporting the planning process from the initial stages of identifying goals and objectives to working with representatives across campus to develop strategies and tactics for achieving them.
Whether you are a student, or member of the faculty or staff, your participation and feedback are crucial to the success of the strategic planning process. The campus community may send ideas to feedback@uark.edu.
Strategic Planning Resources
DRAFT 150 Forward Strategic Plan
The 150 Forward Strategic Plan includes goals, objectives and broad metrics for three priority areas or pillars. The next phase will include development of strategies and specific tactics with the goal of a completed plan in time for the Fall 2023 semester.
150 Forward Overview, Schedule and Definitions
From pillars to tactics, this planning guide provides an overview of the of the university's strategic planning process including foundational definitions and scope. The completed plan serves as a guide for colleges, schools and units as they work to align strategies to advance shared goals.
150 Forward Update and EAB Resources Overview
A recording of the 150 Forward Update and EAB Resources Overview learning session is available to members of University of Arkansas campus community. The session was conducted with EAB, a firm specializing in higher education that is partnering with the university on various aspects of the planning process. University community members also have access to the slides used as a part of the session.
Access EAB Resources
The university community has access to EAB benchmarking, white papers and other helpful resources. Go to EAB.com, click login, select create account and register to access available resources.
Phase 1
November 2022 – January 2023
Planning Group Designs Process and Codifies Strategic Priority Areas
Phase 2
February 2023 – August 2023
Campus Community Sets Goals and Quantifiable Objectives
Phase 3
Fall 2023
Colleges, Schools and Campus Units Develop unit-specific Strategies and Tactics; overarching plan will be completed this fall
Phase 4
Ongoing
Refinement, evaluation and reporting of progress
Fulfilling our Land-Grant Mission
150 Forward Town Halls
Achieving Research Excellence
Streamed live on Feb 15, 2023
The Achieving Research Excellence Town Hall was primarily designed for campus researchers and staff who support the university's growing research enterprise.
Advancing Student Success
Streamed live on Feb 22, 2023
The Advancing Student Success Town Hall was designed for faculty, staff and students with a desire to improve support for students and successful outcomes in the areas of orientation, retention, graduation, career development and more.
Enhancing the University's Status as an Employer of Choice
Streamed live on Mar 17, 2023
The Employer of Choice Town Hall was designed for faculty, staff, graduate assistants and other student employees with an interest in enhancing the overall employee experience at the U of A, including the ongoing class and compensation initiative, flexible work guidance, total benefits package and professional development.