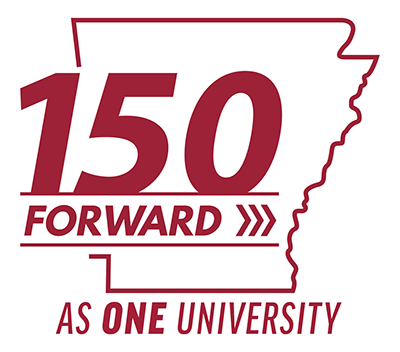 Strategic Planning Process
The University of Arkansas' 150 Forward strategic planning process is a campuswide, collaborative effort to map out where we are as a land-grant institution, and how to tease out more and better outcomes in achieving the university's mission.
The process began even before Dr. Charles Robinson was selected as the university's seventh chancellor on November 16, 2022, when he began rallying the campus around three strategic priority areas – or pillars: advancing student success, achieving research excellence and enhancing the university's status as an employer of choice.
A planning group began designing a series of events to bring the entire campus community into the planning process, and partnered with EAB, a higher education research firm, to provide best practices, tools and support to campus units.
The events — including town hall discussions, unit and organization level listening sessions and discussions, workshops and goal-setting sessions — kicked off in February 2023. They will drive the planning process as we move from identifying goals and objectives to developing strategies and tactics for achieving them. The phasing is approximate and ultimately, units can concurrently be thinking about ways to align their plans to the three pillar areas.
Whether you are a student, faculty or staff, your participation and feedback are crucial to the success of the strategic planning process.
Phase 1
November 2022 – January 2023
Planning Group Designs Process and Codifies Strategic Priority Areas
Phase 2
February 2023 – April 2023
Campus Community Sets Goals and Quantifiable Objectives
Phase 3
May 2023-October 2023
Colleges, Schools and Campus Units Develop Strategies and Tactics
150 Forward Town Halls
Achieving Research Excellence
Streamed live on Feb 15, 2023
The Achieving Research Excellence Town Hall was primarily designed for campus researchers and staff who support the university's growing research enterprise.
Advancing Student Success
Streamed live on Feb 22, 2023
The Advancing Student Success Town Hall was designed for faculty, staff and students with a desire to improve support for students and successful outcomes in the areas of orientation, retention, graduation, career development and more.
Enhancing the University's Status as an Employer of Choice
Scheduled for Mar 17, 2023
The Employer of Choice Town Hall is designed for faculty, staff, graduate assistants and other student employees with an interest in enhancing the overall employee experience at the U of A, including the ongoing class and compensation initiative, flexible work guidance, total benefits package and professional development.