The future of the University
The future of the University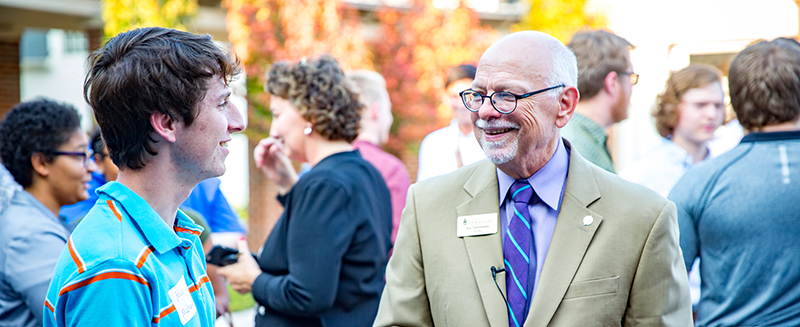 Chancellor outlines a vision and a plan for the University
There's an old proverb that says "A vision without a plan is just a dream. A plan without a vision is just drudgery…but a vision with a plan can change the world." The University of Arkansas is quickly approaching its sesquicentennial – that's 150 years of being the state's flagship and land-grant institution.
At the time of the university's founding, the actual State of Arkansas was just 35 years old. When congress passed the Morrill Act in 1862, which designated the sale of federal lands to fund the creation of colleges across our young nation, it represented both a vision and a plan. Their vision was a better, brighter future for our country through the spread of knowledge and acquisition of skills, and the plan was to create universities through which individual states could generate knowledge and skills in accordance with the needs of their citizenry.
Ultimately, proponents of the Morrill Act wanted to change lives – to build a better state through prosperity – and thought this grand experiment in public education was the best way to do that. A college education was understood to have a twofold value: it bettered the individual and it bettered society through that individual's contributions. Educate enough individuals, and the whole state rises.
Nearly a hundred and fifty years later, we remain committed to that vision, even as state support has wavered. That's why we've turned to you to help sustain that vision. You, better than most, understand the challenges we face today – perhaps the biggest being the need to keep a University of Arkansas education affordable and accessible to the people who need it most: everyday Arkansans seeking to improve the circumstances of their lives or to provide a better future to their sons and daughters. So a big question now is – where will Campaign Arkansas take us? How will it help us better the lives of our students and strengthen the state. In the spirit of looking ahead, I'd like to share a few predictions about what this university will look like in the next decade or so.
So let me rattle off a few.
First, we will be stable at around 30,000 students – perhaps 35,000 if you count 100% online students as online classes become a more prominent component of our course offerings. But while we expect online education to keep expanding, online classes will continue to be a complement to the brick and mortar classroom rather than a replacement. Most students will take a mix of both classes. "Why is this?", you might wonder, given that online classes are expected to create cost efficiencies. Because the residential and social experience will always be a crucial part of a comprehensive college education.
The opening of the Stadium Drive residence halls in 2019 reflects the continuing importance and need for a real-world experience on this campus. I mean, think of all the lifelong connections you forged here on campus – they are probably a big reason why you are here today and why a real-world college experience is irreplaceable. Can you even imagine a college experience that does not include friends, social experiences, sporting events, and the many other things that go on at a university like this one? Besides, we should never underestimate an eighteen year old's desire to get away from their parents!
Research productivity will also have increased – due in part to the increased number and quality of tenure and tenure-track faculty. And I believe these researchers will be outperforming their predecessors due to increased efficiency, collaboration, and new partnerships. We're already on track to big things. Did you know that in this current funding cycle, we have seven National Science Foundation Career Award winners? NSF Career awards are the most prestigious awards that NSF gives to young investigators and it celebrates the integration of research and teaching. So far this year, seven awards are more than any other SEC institution has received. It's also more than the likes of Stanford and Duke, and tied with Yale. Dr. Ajay Malshe has also been inducted into the National Academy of Engineering – the first professor in the history of the university to be inducted in the academy for work he did while here at the University.
I've said it before, I'll say it again because it can't be said enough: Great universities are built on a foundation of great faculty – and they are already here attracting acclaim and doing phenomenal work. We just need to do our part to ensure they maximize their capabilities. That's why we invested a million dollars in the Chancellor's Fund to help faculty scholars, researchers, and artists engage in creative, innovative, and exciting new work on interdisciplinary projects. This year we received 93 proposals representing the efforts of 290 faculty. This will only help strengthen our competitiveness for federal research awards and create exciting new opportunities in the future. Our faculty will also be more productive due to an increased commitment to graduate education. Graduate students are critical to our research and teaching mission, and we will have grown our graduate enrollment while increasing stipend amounts and fellowship opportunities that enable us to attract the very best from across the country and around the world.
In the next decade, we will also have established stronger partnerships with business, industry and advisors across the state. With the help, guidance, and expertise of volunteers, providing insight into what business and industry needs, we will have expanded advisory and service roles to inform our work. And, at the same time, created more innovative and needed academic programs. The newly created position of vice chancellor for economic development, currently held by Stacy Leeds, will also be instrumental in developing new connections and relationships between the university and the business community throughout the state.
And as a part of our commitment to strengthening graduate education, we will also have developed several new professional masters programs. These will provide important sources of revenue to support other areas of graduate studies while at the same time building valuable connections with the private sector. And as a result of the sustained efforts of Stacy's office, Vice Chancellor for Governmental Relations, Randy Massanelli, and other new outreach initiatives, like what we've done in the Delta region, the public will have a greater understanding of the role the University of Arkansas plays in moving the state forward. We will have a vision that the public can see, support and champion. Private sector advocates and allies will be at the forefront of that support.
There is plenty of evidence that shows college grads vote more, are more civically engaged, are healthier and live longer, donate more to charity and start more businesses – not to mention enjoy lower rates of unemployment and incarceration. The public needs to be better informed about that. Stories that support and advance our outreach mission will be widely told and understood by the public – who will help make the case to our state legislators that we are a public good that is worthy of more state support. I think people will invest in us if they believe they are individually and collectively better because we exist.
In the next decade, we will also have an established system that exemplifies our "One Student at a Time" mantra by integrating every dimension of student success under one roof. Our Student Success Center, which will be just north of Old Main, will be a one-stop shop for students that provides holistic, systematic, and structured support. We will meet the students where they are as individuals and address their evolving needs over time, from pre-enrollment, the transition to college, and semester-to-semester retention to on-time graduation, and their eventual transition to careers.
In the next decade, I believe we can raise graduation rates by 10 percent through an integrated "One Student at a Time" approach. This will be good for our students, who will be graduating in greater numbers with an increased ability to pay off their loans and find work. This will be good for our state, which will benefit from the addition of their knowledge and skills; and this will be good for the university, which will gain up to $4-5 million a year in tuition revenue from the students who are retained. Everybody wins when our students are more successful.
And that's that in the next decade we will have a School of Art that's second to none in the nation and engenders a campus environment of creativity that touches every student, every faculty and every staff member. We will be a center of excellence in art education, art history, graphic design, and studio art curriculum. And we're going to have a fantastic Art and Design District in south Fayetteville thanks to the Windgate Foundation.
Finally, as a result of a renewed commitment to accessibility and affordability, inclusion and diversity will permeate the institution. Recently, a national magazine, "Diverse: Issues In Higher Education" included the University in its annual list of the "Top 100 Degree Producers of Minority Degrees." In the years ahead, we will only further consolidate our position amongst the top universities serving minorities and strengthen our reputation as an inclusive and diverse institution serving every county of the state. And an Institute of Inclusion and Diversity, a signature initiative launched by vice provost of Diversity and Inclusion Yvette Murphy-Erby, will be a resource to the community who will turn to us to help train their workforce and foster tolerance through programs and thoughtful leadership.
Now I could go on, but I think you get the idea – big things are on the horizon as result of the work being done today. As you can tell, I am extremely optimistic about the future of this university and you should be, too. There is no more exciting time to be on this campus than right now. We're going to graduate students in greater numbers, grow our graduate enrollment, empower our faculty to be more productive, deepen our connections to business and industry, and restore the public's confidence in the power and value of a public university.
That's not a dream – that's a vision. Because like our forebears we have a plan in place - and Campaign Arkansas is central to the fulfillment of that plan. There are challenges ahead, but we will meet those challenges and in so doing, build a better university for the people of Arkansas.