Spring Commencement 2018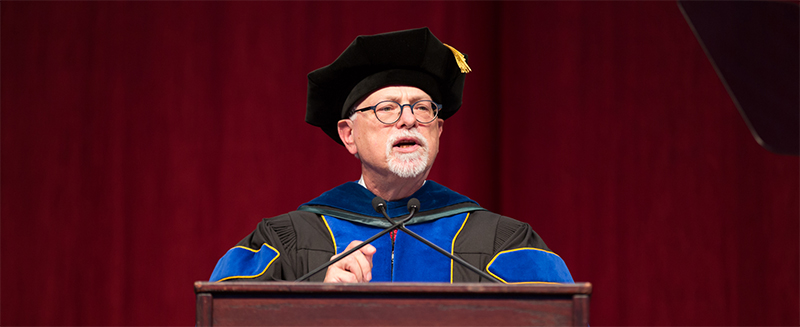 Chancellor Steinmetz salutes two graduates
There are thousands of paths to graduation – some longer, some shorter, some relatively easy, some fraught with difficulty. The commonality in those paths is a determination to make a difference in your own life and the lives of others. A college education is as much about learning a discipline as learning about yourself – what you value, what you're passionate about, and where you want to end up. Ultimately, the sense of accomplishment is proportional to the challenge.
So let me recognize a couple graduates, starting with Sandra Bullins. Sandra lost her sight at 22, after a complications from a surgery left her in a coma for thirty days and deprived her optic nerves of oxygen, destroying them. She was shattered, sunk in depression and despair over her new reality. But family and friends helped her work through it.
Over the next several years she attended massage therapy school, married, had a daughter, and worked for Volunteer Blind Industries, sewing helmet covers for the U.S. Department of Defense. At the age of 31, Sandra decided to go back to school, earning associate and bachelor's degrees in psychology from Northeast State Community College and East Tennessee State University, respectively.
She joined the National Research and Training Center on Blindness and Low Vision at Mississippi State University, and subsequently earned a master's degree in rehabilitation counseling from M.S.U. And, in 2015, she began the vocational rehabilitation counseling doctoral program here in the College of Education and Health Professions.
Her experiences helped form her research focus on accessibility and how people with disabilities cope, particularly how women cope with the onset of visual impairment and the role their spirituality plays. Sandra currently leads outreach efforts for the blind and visually impaired at Sources for Community Independent Living Services. She also works with Soldier On Service Dogs, a nonprofit organization that provides trained service dogs to veterans diagnosed with PTSD and traumatic brain injuries.
After using a cane for many years to orient herself, Sandra received her own service dog, Mr. Jim, in 2012, though he is now in semi-retirement. Sandra has accepted a post-doctoral fellowship at Virginia Commonwealth University in the Advanced Rehabilitation and Research training program starting this June.
So congratulations to you, Dr. Sandra Bullins, on your incredible perseverance and accomplishment here today. We are proud of you!
I also want to recognize Justin Miles. Justin grew up in Gilmore, Arkansas – a small town of about 250 residents in the northeast corner of the state – and was one of six boys in his family. I am one of five boys in my family, so I know what that is all about!
From an early age, his life exemplified service.
In fact, at the age of 14 he wanted to get involved in his community, so he began attending city council meetings. One of things he wanted to do was fix up the playground across the street from his home, which had not been fixed up since his parents played there as kids. But unfortunately he was not able to make this happen.
Justin knew he wanted to come to the University of Arkansas for its pre-med program, but he couldn't afford college coming out high school. So he joined the Arkansas National Guard and spent some time in Fort Sam Houston, putting a little money aside for school. When he later came to the U of A, while still serving in the Guard, he took out loans for his first two years of school. However, scholarship support during his third and fourth years helped lighten the burden and made a world of difference.
This year he was named one of the inaugural recipients of an Advance Arkansas scholarship, an initiative aimed at increasing accessibility for first-generation Arkansans – just like him. During his time at the university, Justin volunteered in various student organizations, such as the Global Dental Brigade. His experience with this organization included two trips to Nicaragua, where he and other students volunteered in rural communities in need of medical and dental services. Together, they treated approximately 1,000 patients each visit and essentially served as a walk-in clinic for individuals who often go without medical care. Justin now plans to attend medical school and ultimately settle in Arkansas for his career.
And that park across the street from his parents he wanted to fix up? The city never did, so Justin purchased the property and has spent the last several years fixing it up with new equipment as time and money have allowed. Now kids just like he was can play on it.
Congratulations to you, Justin – you'll be a doctor before you know it, and your community will be the better for it.