David Wiley Mullins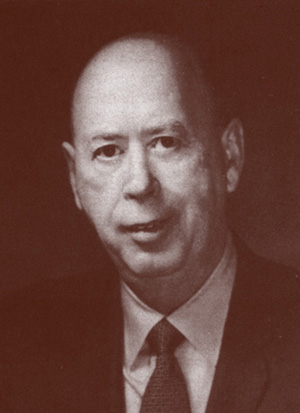 David Wiley Mullins: 1960-1974
David W. Mullins graduated cum laude from the university in 1931, earned a master's degree from the University of Colorado in 1934, and received his doctoral degree from Columbia University in 1941. He also taught and served as superintendent of schools for Lepanto, Ark., during this time period. He was chair of the department of educational administration for Alabama Polytechnic Institute but interrupted his academic work to serve in the U.S. Navy during World War II. After the war, he was hired as vice president of Auburn from 1949 to 1960, and was then hired as president of the University of Arkansas in 1960.
The university experienced unprecedented growth during Mullins' tenure, both in student population and capital construction, while he guided the university through the 100th anniversary of its founding. Enrollment more than doubled during a 10-year period. New residence halls were built across campus, including Yocum, Humphreys, Fulbright, Hotz and Carlson Terrace. A new student union, library and communications building were erected. Private gifts to the university increased substantially.
Mullins and the Board of Trustees also laid groundwork for creation of the University of Arkansas System, partly as a result of the merger of Little Rock University into the University of Arkansas and then the subsequent mergers of Arkansas A&M, eventually renamed the University of Arkansas at Monticello, and Arkansas A.M.&N., eventually renamed the University of Arkansas at Pine Bluff.
During a decade when campus unrest rocked many universities across the country, Mullins kept the University of Arkansas on a relatively steady course through the 1960s. Although protests occurred on campus, most were directed at national issues and only a small percentage of them were critical of the university administration.
Mullins retired in 1974 after 12 years as president, the second-longest tenure in the university's history at the time. The main research library at the university was named in his honor. He was awarded honorary degrees from Hendrix College in 1965 and the University of Arkansas in 1987.
Personal: Mullins was born Aug. 11, 1906, at Ash Flat, Ark., to Roscoe C. and Emma Matilda Mullins. He married Eula Elizabeth Harrell in August 1935, and they had three children. He died Sept. 22, 1987.
Quote from Fred Pickens, chair of the Board of Trustees, upon Mullins' retirement: "His presidency constitutes an unsurpassed landmark of achievement for the university which will go down in the institution's history as a high tide of progress."