James E. Martin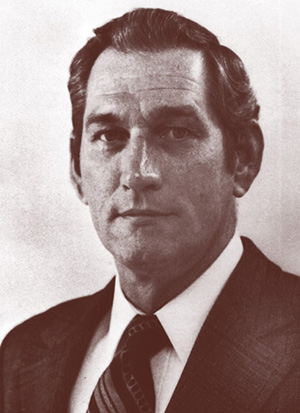 James Everett Martin: 1871-1873; 1875-1877
Like his predecessor, James E. Martin was steeped in agricultural education and research. He received his bachelor's degree from Auburn University in 1954, a master's degree from North Carolina State University in 1956 and his doctoral degree from Iowa State University in 1962.
Before coming to the University of Arkansas, Martin served as dean of agriculture and life sciences at Virginia Polytechnic Institute and State University. Previously, he had served on faculty at Oklahoma State University and the University of Maryland.
In 1975, he was hired as vice president for the Division of Agriculture at the University of Arkansas, drawing the separate agricultural programs at campuses across Arkansas into a well-coordinated single program.
As president of the University of Arkansas, he oversaw creation of a chancellor's position at the Fayetteville campus. The University of Arkansas Press was also established, and the Center for Continuing Education was built on the Fayetteville Square. Offices for the Arkansas Alumni Association were also erected at the corner of Razorback Road and Maple Street.
He left the university to become president of his alma mater, Auburn University, in 1984. He retired in 1992.
Personal: Martin was born June 22, 1932, at Vinemont, Ala., to Everett Parrish and Buena Marie Gibson Martin. He married Rachel Ann Freeman in 1958, and they had three children.
Quote by Charles Bishop upon the hiring of Martin: "I regard him as one of the truly outstanding agricultural leaders in the United States and I am confident that, under his leadership, Arkansas agriculture will continue to develop and progress in the future."