Henry S. Hartzog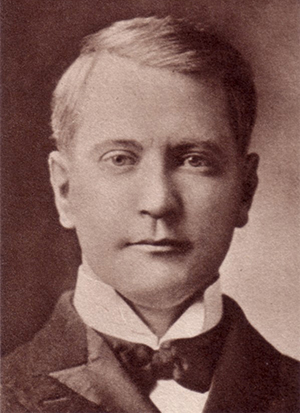 Henry Simms Hartzog: 1902-1905
The first president of the university to have been born after the Civil War, Henry S. Hartzog earned a bachelor's degree from the South Carolina Military Academy in 1886, earned another degree from the Southern Baptist Theological Seminary, and a Doctor of Laws from Mercer University in 1900. After teaching, he was elected president of Clemson Agricultural College and became president of the University of Arkansas in 1902.
The youngest person to have served as the university's president, Hartzog brought energy and enthusiasm to the job, traits that appeared to have helped him in garnering help from the state. His administration was successful in getting appropriations in 1903 for an Engineering Hall and in 1905 for six buildings, three of which – Carnall Hall, the old Chemistry Building and the old Agriculture Building – are still in use on the campus.
A Baptist minister as well as an educator, he became president of Ouachita Baptist University in 1907 and later moved to St. Louis to enter the field of educational publishing.
Personal: Hartzog was born July 17, 1866, to Samuel J. and Mary Owens Hartzog in South Carolina. He died at St. Louis on Dec. 15, 1953.
Story from Leflar's The First 100 Years: Governor Jeff Davis, apparently in an attempt to broaden his power in advance of a run for the U.S. Senate, replaced Hartzog as president with Circuit Judge John M. Tillman. "At Commencement in June Governor Davis was on the stage in the University Hall auditorium, preparing to introduce the new president. Hartzog was there too. He arose before the governor did, told the audience what had happened, denounced the governor for playing politics with the university, shamed the board of trustees for its subservience, and set forth the needs of the university clearly and fearlessly. Probably the speech did some good. At least it could not be ignored by the new president."