Storm Whaley, acting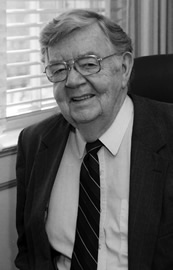 Storm Hammond Whaley: 1959-60, Acting president
Storm Whaley was a 1935 graduate of John Brown University, working at that university in several capacities and receiving an honorary degree in 1959. He joined the University of Arkansas in 1954 as an assistant to the president, providing public relations expertise. He was serving as director of university information when John Tyler Caldwell resigned. Whaley served as acting president while the university established a search committee to hire a new president.
During this interim period, Whaley developed a broad understanding of the complicated administrative problems in dealing with the campuses at Little Rock as well as an interest in the health services and medical research conducted by the Medical School. When David W. Mullins was appointed president of the university in 1960, Whaley was named vice president for health sciences and put in charge of the Medical Center.
In 1970, Whaley left the Medical Center to become associate director of communications for the National Institutes of Health, where he worked until retirement in 1992. In 1983, Whaley was among the first three people to receive honorary degrees by the University of Arkansas for Medical Sciences.
Personal: Whaley was born March 15, 1916, at Sulphur Springs, Ark., to Storm Onus and Mabel Etta Prater Whaley. He married Jane Bucy in 1935, and they had three daughters.
Quote from L.C. Carter, chair of the Board of Trustees, upon Whaley's appointment as vice president of the Medical Center: "Since he joined the university administrative staff in 1954, Mr. Whaley has worked with singleness of purpose to raise the level of higher education in Arkansas as well as the South."